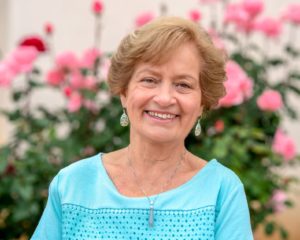 Jean's life may have turned out very differently if she hadn't been carrying a large pile of library books that spring day in Cincinnati, Ohio, in 1952. She may not have met Jim Norton, a handsome high school student, one year her senior, who gallantly opened the door for her. Talking led to dating, then an exclusive relationship, and ultimately marriage.
Career opportunities brought the couple to California. When they reached retirement age, they relocated to Oregon where Jim built a woodworking shop and maintained acres of fruit trees. "Jim's brother and sister suffered from dementia so the idea of getting the same diagnosis troubled him," said Jean. "That's why we made a commitment to live each day to the fullest." Their shared love of travel took them to Eastern and Western Europe, Russia, the Middle East and Africa.
"I noticed that tasks that had always been easy for Jim, like fixing the outdoor watering system, were suddenly beyond his ability," said Jean. "As his memory problems increased, we decided to move back to California to be closer to our children and grandchildren." They purchased a home in North San Diego County.
An MRI revealed early-stage Alzheimer's disease. Soon after, Jim had difficultly recognizing Jean. He would become extremely agitated and would frantically try to find her.
When a health problem resulted in a trip to the Emergency Room, the physician listened to her recount Jim's medical history. He asked Jean why she thought her husband had Alzheimer's disease. He asked permission to run some tests. His diagnosis wasn't Alzheimer's. His diagnosis was Lewy Body.
Lewy Body is a type of dementia that causes a progressive decline in mental abilities. Protein deposits, called Lewy bodies, develop in nerve cells in the brain regions involved in thinking, memory and motor control. People with Lewy body dementia do not respond to the medication given for Alzheimer's.
Jim's health was declining rapidly. The doctor informed Jean that it was time for hospice. She chose The Elizabeth Hospice.
"The care team was incredible. Not only did they get his medication under control, they provided me with a list of homes where Jim would receive the care he needed," said Jean. "They made all the arrangements, including transportation to the care facility. I was so stressed out. You can't believe what a relief it was for me to have someone else take care of all the details"
Several months later, Jim passed away.
"I was lost without him," said Jean. "My husband had been my life. We did everything together."
Magically, The Elizabeth Hospice stepped in to help Jean again. She received information about support groups for people who are grieving the death of a loved one. "These meetings provided me with a reason to get out of the house," she said.
After some time had passed, Jean decided that she wanted to pay back The Elizabeth Hospice for everything they had done for her. Since she had learned so much about dementia from caring for Jim, she asked to volunteer to work with dementia patients and their families.
"By volunteering, I'm helping The Elizabeth Hospice. I'm helping patients. And honestly, I'm helping myself, too."
——-
Volunteers are an important part of The Elizabeth Hospice's care team. Whether meeting with patients, creating special keepsakes for families who are grieving or serving as community ambassadors for The Elizabeth Hospice, they are making a real difference in someone's life. To learn more or sign up for a Volunteer Orientation, call 800.797.2050 or email volunteer@ehospice.org.