Compassion, Dignity and Peace
Forty-five years ago few people knew the word hospice; fewer still recognized its potential to alleviate suffering. But one woman held a vision of what this philosophy of care could mean to her community.
This nurse, Elizabeth "Betty" Bulen, invited three of her friends, Betty Benz, Ann Elizabeth Warren, and Kay Elizabeth Austin, to work with her in establishing an organization of compassionate volunteers devoted to offering hospice care and palliative care to the terminally ill and their families. To strengthen this vision, Betty Bulen and Betty Benz visited St. Christopher's Hospice in London. Inspired by what they saw, they began offering their first volunteer training. In 1978, they incorporated, naming this new entity, The Elizabeth Hospice, which shares the name of all the founders.
"People think hospice is about dying, but it's really about celebrating life." – Betty Bulen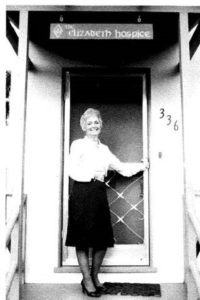 The Elizabeth Hospice, a nonprofit hospice and healthcare leader, has been providing medical and emotional support to patients and families facing the challenges associated with an advanced life-limiting illness and restoring hope to grieving children and adults who are feeling lost and alone. Since 1978, we have touched the lives of more than 125,000 people in the communities we serve, offering medical and emotional support, regardless of the patient's ability to pay.
END OF LIFE OPTION ACT
The Elizabeth Hospice honors our patients' self-determined life closure decisions and their right to exercise the End of Life Option Act (EOLOA) while concurrently receiving hospice care.
We educate patients and families on all legal end-of-life options, including the EOLOA, so patients can choose what is best for themselves. The Elizabeth Hospice strives to provide a nonjudgmental environment where every life ends with compassion, dignity and peace. It is a privilege for us to be alongside our patients and families to provide care and support at this special time in their lives.
Under a provision of the End of Life Option Act, the patient's attending physician is the person who prescribes an aid-in-dying drug. The patient's attending physician has an established relationship with the patient and is primarily responsible for treating the terminal illness. The Elizabeth Hospice physician is the consulting physician independent of the attending physician and serves as the second opinion confirming the prognosis of the patient's terminal disease. If a patient requests the presence of The Elizabeth Hospice during the self-administration of the aid-in-dying drug, we have staff members or volunteers available to be there.
A patient's insurance company may cover the consultations and/or medications related to the End of Life Option Act. The patient would be responsible for contacting the insurance company directly for more information. If the patient does not have insurance coverage, the patient and family are responsible for covering these costs per the End-of-Life Option Act.
The Elizabeth Hospice firmly believes that no one should ever have to grieve alone. And through our grief services counseling center, that belief extends to family members and caregivers of patients who choose to exercise the EOLOA.
—–
Diversity, equality and inclusion are at the core of our work at The Elizabeth Hospice. They are the promise we demonstrate to the community every time we open our hearts and doors to all who need our services. Our vision was built on this promise:
The Elizabeth Hospice aspires to a world in which every life ends with compassion, dignity and peace.
These core values define our culture, our service, the comfort care we provide and our relationship with each other.
Practice Humility | Embrace and Drive Innovation | Be Respectful | Act with Integrity | Foster Transparency | Promote Collaboration | Celebrate Excellence