Frank and Sue had the type of relationship most people only dream about. "We connected on every level. We shared the same dreams and goals," said Frank. "We showed up for each other and had each other's back. All of these things caused our souls to become intertwined."
They fell in love in high school and married, Sue was 18 years old and Frank was 19. Some friends and family members thought they were crazy to make this type of commitment at such a young age. But these people were clearly wrong. Frank and Sue's love-filled marriage lasted 50 years, during which time they raised two wonderful children and were extremely close to their two grandsons. Life wasn't always idyllic. Sue's parents were brutally murdered in their own home. Dealing with this tragedy, though, made the bond between Frank and Sue even stronger.
When Sue received the diagnosis of brain cancer, Frank accompanied her on the roller coaster ride of emotions, hoping for the type of brain tumor that was treatable but ultimately learning that Sue's prognosis was terminal. He engaged The Elizabeth Hospice for end-of-life care. He, his daughter Vanessa and son Frankie focused their attention on looking after Sue along with the hospice care team
After Sue's passing, the things that Frank loved – cooking, playing the guitar, listening to music, watching the sunset – became difficult for him to enjoy. "I was stuck. My inner clock stopped working while the whole world's clock kept ticking," he said.
Noticing how grief was impacting Frank's health, his physician recommended that he seek grief counseling.
"All of the counselors at The Elizabeth Hospice are understanding, compassionate and patient," said Frank. "They recognize that everyone grieves at their own pace. One of my counselors, Caitlin, determined that my grief was 'complicated' and introduced me to Liane Fry, Bereavement Manager for The Elizabeth Hospice."
Losing a spouse is life-changing. "For some, the feelings of loss are debilitating and even with time there is little adaptation to the loss. Often there are obstacles preventing the natural grieving process to progress. This is known as 'complicated grief,' and we can provide a specific treatment to resolve this," said Liane Fry.
Frank underwent a comprehensive counseling program that included homework exercises. "My counselor never gave me more than I could do and always gave me just enough of a nudge. She rescued me from my despair," declared Frank.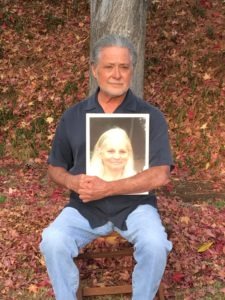 In addition to individual counseling sessions, Frank began attending a spousal support group with The Elizabeth Hospice. "I'm surrounded by others who understand what I'm feeling and I never fail to learn from them. For me, group is a life boat, a place for travelers who are waiting to get back to a life filled with meaning and purpose."
Frank is now focused on appreciating the 50 years that he had with Sue instead of being constantly consumed with the sadness of losing her. He encourages others who have lost a loved one to treat their grief and psychic wounds as they would their physical ailments. "We see doctors for check-ups, visit Urgent Care for non-life-threatening illnesses, and end up in the Intensive Care Unit of a hospital when we have a severe illness. Complicated grief sometimes requires intensive care. My counselor recognized that my unaddressed grief from the murder of Sue's parents added to the grief I was experiencing from losing my soulmate."
"Little by little, I am becoming unstuck," continued Frank. "Along with the love and support of my family and friends, I credit my counselor and The Elizabeth Hospice with saving my life."