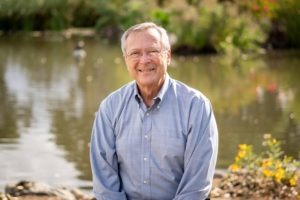 Dr. Nicholas Tsoulos, pediatrician, neonatologist and long-time resident of North San Diego County, remembers meeting Elizabeth (Betty) Bulen and her three wise and compassionate colleagues (all named Elizabeth) who established the organization.  "These were fine women, committed to caring for the terminally ill and their families. They had high ideals and devoted themselves to doing important work for the people in their community, "said Dr. Tsoulos. "Four decades later, the organization has stayed true to its founders' mission and has earned a reputation as a quality hospice with caring at its base," he continued.
Dr. Tsoulos' began donating to The Elizabeth Hospice early in its development. His relationship with the organization developed further when his mother, Katherine, experienced significant health issues at the age of 96. He had been overseeing his mother's medical care for years – accompanying her to doctor visits, answering her questions and providing advice. But when, she was at the end of her life, he felt the need for additional support so he turned to The Elizabeth Hospice.
"Mom wanted to spend her final days at home with family, rather than in the hospital. We contacted The Elizabeth Hospice and they made all the arrangements, began their care in the hospital and seamlessly coordinated care with the hospital's medical team," said Dr. Tsoulos. Within hours, the equipment was ordered and everything was in place. Over the next few days, the care team focused on making her comfortable and answering the family's questions.
"Even though I'm in the medical field, I'm not an expert in end-of-life care. I found it very reassuring and comforting to have The Elizabeth Hospice with us by my mother's side. Hospice allowed our family to spend the precious time we had left celebrating life and sharing beautiful memories."
Dr. Tsoulos believes in giving back to his community especially to organizations that have touched his and others' lives in a personal way.  "I'm proud to support The Elizabeth Hospice because of the high-quality work they do and for helping me fulfil my remarkable mother's wish to be surrounded by family and friends at the end of her life."