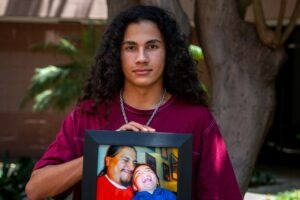 When Aaron was 12 years old, his dad passed away from a DUI motorcycle accident. It was as though a big piece of his soul had been ripped out. He had a hard time staying focused on what was important in my life, which was his mom, who was sick, and his schoolwork. Aaron felt unbelievably alone.
Aaron's counselor noticed that he was struggling and told him about a support group from The Elizabeth Hospice, held on his school campus. Aaron was scared but pushed himself forward because he knew he needed help.
"Before attending the support group, I didn't even know that grief was a thing," said Aaron. "The group facilitators helped me understand what grief looks like and how to express my emotions in a positive way. At group, I met kids who were feeling the same anger and sadness that I was. In our meetings, we built each other up by sharing our stories and did activities to better understand ourselves. Knowing that there was a process to grieving was very comforting."
The Children's Bereavement Program from The Elizabeth Hospice is the only one of its kind in our community. In addition to school-based support groups, there are after-school support groups and summer grief camp. There's no cost to attend and nobody is ever turned away.
"At The Elizabeth Hospice, I have a family of people helping me," continued Aaron.  "It's great to know that I'll never be alone."