Samuel Nehemiah has a warm place in his heart for veterans. That's because he loves the U.S. and knows that this country wouldn't be what it is today if not for the brave people who serve in the military.
Samuel was born in a remote village called Kpor in the southern part of Nigeria. At the age of four, his uncle dropped him off at an orphanage, telling the matron that Samuel had no family and telling Samuel's mother that Samuel had died. He questioned why his family didn't want him anymore, assuming it was because he was disabled with polio. The treatment Samuel received at the orphanage was inhumane. "The facility only cared about making money. They fed us once a day so that we'd look undernourished, and they could appeal to the community for donations. I was beaten regularly and otherwise ignored," said Samuel.
Samuel soon realized that education was the only way to improve his life. He crawled to school – one mile each way – because he didn't have a wheelchair or crutches. Samuel had the good fortune to have a kind and caring teacher who was like a mother to him. He joined the choir and developed a love of singing. At age 19, he was invited to compete with hundreds of disabled athletes. He went to the World Stoke Mandeville Games in England and was named "Best Wheelchair Athlete of the Year."
In 2000, Samuel was invited to the U.S. to train for the Paralympics Games. When he arrived in this country, one of the first things he saw was a Handicapped Parking sign. "In Nigeria, my home country, nobody has any regard for you if you have a disability. You were treated like you were nothing. In the U.S., not only do they recognize you, but people find ways to make life easier for you."
Samuel was searching for a way to give back to this country when he met Nico Marcolongo, Senior Manager of Operation Rebound at Challenged Athletes Foundation. Nico told Samuel about the veteran pinning ceremonies offered by The Elizabeth Hospice to veterans nearing the end of their lives. The Elizabeth Hospice is the largest independent nonprofit hospice provider in San Diego County and Southwest Riverside County. During these pinning ceremonies, a veteran or active-duty service member honors and thanks the veterans for their military service. Samuel has become a regular participant in the veteran pinning events, performing the National Anthem and God Bless America.
"When I sing the National Anthem, some of the elderly veterans struggle to stand up but they are determined to do so because of their reverence for the anthem. I see a glow on their faces. Some sing along; others don't sing but I watch tears cascade down their cheeks," said Samuel.
"I know these veterans feel the total effect of what I'm doing, and that they are flooded with memories of their experiences in the military. I know that I'm affecting the lives of lots of people. That's why I keep doing it. 2022 marks my 10th anniversary with The Elizabeth Hospice's pinning ceremonies."
Samuel continued, "I want these men and women to know they will not be forgotten. Every person who comes to this great country – America – benefits from what these veterans sacrificed. They are touching lives that transcend generation upon generation. I'm sure they never imagined their actions could touch the life of a stranger like me, a person from Nigeria. But they have, and I am so very grateful."
To listen to Samuel's rendition of The National Anthem, click here: https://youtu.be/-eJwxiLFKcM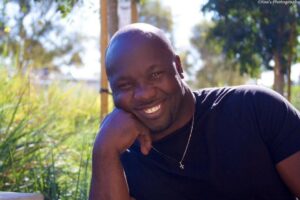 Samuel Nehemiah is the founder of ChampsHeart, an organization dedicated to encouraging young people in America to make good choices today so they will be the future champions of our nation. ChampsHeart believes it is essential to provide America's youth with positive influences and true role models. Samuel has visited over 350 schools, organizations and companies across the country, reaching young people through assembly programs focused on character building and positive life lessons. To learn more, visit www.champsheart.com.
By Janet Clancy, Communications Officer, The Elizabeth Hospice
Article re-printed from San Diego Veterans Magazine. To view the May 2022 issue, visit https://issuu.com/adminhlm/docs/san_diego_veterans_magazine_may_2022?fr=sNTk1YTQyMTQ0Mzg