The word courage often evokes images of the brave men and women who serve in the military and dedicate themselves to protecting us from harmful acts both near and far. People who are fearless and willing to take large risks. People like James Adair, Naval Aviator and Lieutenant in the United States Navy, who is currently serving as an instructor pilot at Helicopter Maritime Strike Squadron Four One, located at Naval Air Station North Island, and has completed two tours of duty aboard a nuclear-powered aircraft carrier in the Arabian Gulf.
When James uses the word courage, though, he's referring to children as young as 7 years of age who boldly stand in front of a room and share their grief story with an audience of 200 kids and adults (strangers) on the first night of Camp Spero, a children's grief camp hosted by The Elizabeth Hospice.
For more than 40 years, The Elizabeth Hospice, a nonprofit organization, has been providing comfort and counsel to children and adults facing the challenges associated with a life-threatening illness and restoring hope to grieving children and adults who are feeling lost and alone. In addition to providing hospice care and palliative care, the organization offers the most comprehensive children's bereavement services in San Diego County and Southwest Riverside County. These services include: on-campus grief support groups in 20 school districts, peer-based support groups in Children's Bereavement Centers in Mission Valley and Escondido, and Camp Spero, a weekend summer grief camp.
Childhood grief is more prevalent than many people realize. One in five children under the age of 18 will experience the death of a significant person in their life. Losing a loved one is painful at any age. For children, this loss can have a lifelong impact. Research shows that grieving children are at risk of depression, anxiety and isolation which often lead to poor school performance, behavior problems and substance abuse. If their grief is addressed early, though, the risk of engagement in maladaptive lifestyle choices can be reduced.
James was approached by his friend Samira Moosavi, Children's Group Coordinator for The Elizabeth Hospice, about volunteering his time as a camp counselor. She knew James had a personal experience with childhood grief and felt that he would be a wonderful role model for the young boys who attend camp, especially those who were grieving the death of their dad.
"When I first met Samira through my wife, Jenna, and she pitched the idea to me of helping with grief camp, I was skeptical. I didn't know that grief camp was a thing," said James. "My dad died from a brain tumor when I was eight years old, and after the fact, my three younger siblings and I never received any counseling. As a result, I unknowingly spent the next 21 years of my life internalizing the death of my dad and thinking this was the norm."
Not only did James submit an application to serve as a volunteer camp counselor, but he helped recruit seven other Navy buddies to serve as camp counselors and logistics experts.
Camp Spero is a weekend camp for youth, ages 7 to 17, who are grieving the death of their significant person. At camp, children and teens honor and memorialize their loved one, make friends with others who are facing similar challenges, learn coping skills, and have lots of fun. There's no cost to attend and camp is open to everyone in the community, including those who have not received hospice or palliative care from The Elizabeth Hospice.
"One of the first most impactful activities at Camp Spero is the Remembrance Ceremony. One at a time, every camper walks onto a stage to 'introduce' the person they came to honor," reflected James. "These kids have all experienced significant loss at far too early of an age. They are incredibly brave and mature for how old they are. Sitting in that room, listening to a 7-year-old girl explain how her parents died is gut-wrenching but on the other hand, you get to see all of her newly made friends put their arms around her and lift her up. The feeling you get when you witness all of these emotions at once is hard to describe; all I can say is that it is incredibly powerful."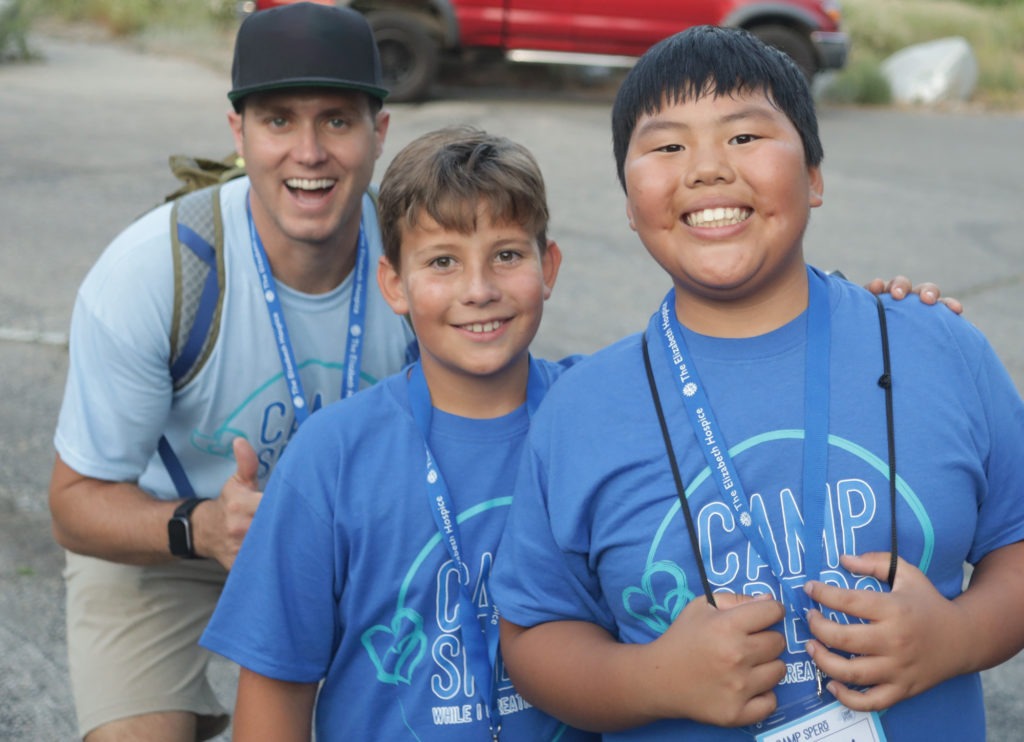 James and a fellow instructor pilot at HSM-41, Lieutenant Kenny Garrison, were the counselors for a group of five 8 and 9-year-old boys. Over the three days, the kids engaged in grief related activities, such as the Remembrance Ceremony, as well as traditional camp fun, including swimming, arts and crafts, ice cream social and more.
All of the campers were invited to participate in Boot Camp on Saturday morning. "Samira really wanted me and some of the Navy guys to run Boot Camp so we decided to act the part. We ran the kids around in formations, had them compete in relay races and saw who had the longest wall sit," explained James. "Everyone gave it 100% which was really cool to see."  
Prior to camp, James and the other Camp Spero volunteers attended a training session to learn about childhood grief and how to create a safe space for children to do their grief work. "During the training session, I realized that I had internalized everything about my dad's death and had never addressed my feelings of loss. I now realize how important it is to receive proper care following the loss of a loved one by tackling the grief head-on instead of shying away from it."  
"James' experience with the death of his father, resonates deeply with the children we serve," said Melissa Lunardini, Children's Bereavement Manager and Camp Director for The Elizabeth Hospice. "As a camp counselor, he is able to talk to campers and exchange grief stories, as if they were war stories, sharing the many battles that happen as you navigate through the trenches of grief. In these conversations, children are able to see that it takes courage to talk about grief and it takes courage to go on living in the midst of grief."
"We feel very honored to have active and retired military men and women serve our community's bereaved children and teens," continued Melissa. "Service men and women make exceptional volunteers because they understand grief, hope, healing and courage on a personal level. They understand the feeling of 'missing' someone and they know deeply how important support, comradery and family are to our well-being."
The experience of being at Camp Spero was so rewarding to James that he has now volunteered at three sessions and plans to help out as long as he is stationed in San Diego. He also plans to continue recruiting more and more Navy friends.
"In my opinion, San Diego is a best place a servicemember can ever hope to live and work. Volunteering at Camp Spero is just one small way that my Navy buddies and I can show our appreciation for all that San Diego does for the military," said James.
If you are interested in learning more about how you can support our community's grieving children, contact Melissa Lunardini, Children's Bereavement Manager for The Elizabeth Hospice, at Melissa.Lunardini@ehospice.org or 760.796.3705.