Like a Queen taking her place on a throne, Lily carefully settles herself onto Carol's lap, just the perfect distance from Carol's hand. Without pause, Carol begins petting this magnificent long-haired feline between the ears with soft, continuous strokes. Lily lies there quietly, gazing at Carol. Content and relaxed, you can feel their special connection.
Carol is a patient of The Elizabeth Hospice, a leading provider of hospice care, palliative care and grief support services. For 40 years, the organization has touched the lives of more than 100,000 people in San Diego County and Southwest Riverside County, with support that goes beyond medical care to include a patient's emotional well-being, too.
During conversations with Carol, her hospice care team learned that she has been a cat lover since childhood. The neighborhood cats knew to make their way to her family's house where they received food and attention. When Carol became an adult, she continued to have furry friends in her home. Her husband, who grew up with dogs and favored them, learned to open his heart to cats.
Health issues prevent Carol from caring for her own pets but this hasn't diminished her desire for their companionship. When Lupita, the social worker on Carol's care team, learned this, she asked Carol if she'd like to meet Lily, a certified pet therapy cat, and Nancy, her human companion, who volunteer with The Elizabeth Hospice. Carol's response was an enthusiastic "Yes."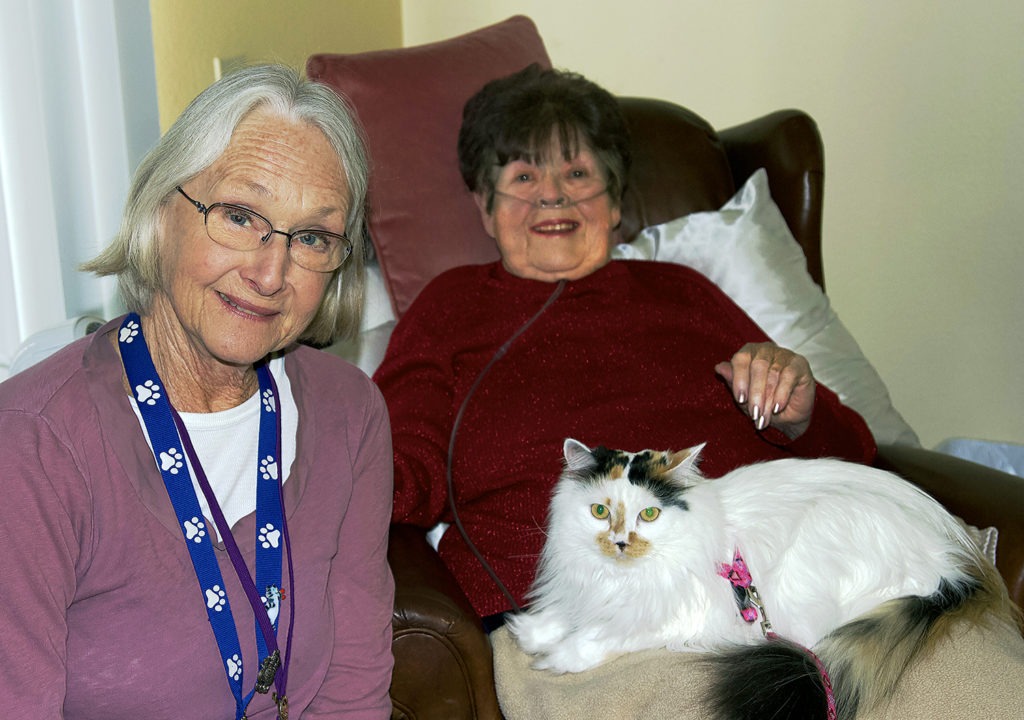 "Lily is a treasure," said Carol. "Her calico striping, amber eyes and soft white coat make her a magnificent creature. She's majestic and so sweet. It's such a treat when she comes by for a visit."
Given Lily's beauty and loving nature, it's hard to believe that she was abandoned by her former owner. At the age of one, Lily, a Turkish Van, was dropped off at a veterinary clinic. Her coat was so matted that it had to be shaved. Nancy saw a posting on Facebook and convinced her husband that they should stop by to "just take a look." But she did grab the cat carrier before leaving her house. Nancy convinced her husband that they should foster the cat until the veterinarian could place her with a family. Within an hour of having Lily in their home and introducing Lily to their cat Moorea, Nancy declared that Lily wasn't going back.
"Lily loves Carol," said Nancy. "She almost jumps out of the van when we pull up at the residential facility where Carol lives. If I were to let loose of her leash, Lily would go directly to Carol's front door."
"Cats are very much in demand," added Nancy, who has been volunteering with The Elizabeth Hospice for several years. "I wish more people would have their cats certified as therapy pets. They bring comfort to patients and provide a 'fur fix."
The Pet Therapy Program is one of many free services offered by The Elizabeth Hospice. Others include: grief support for adults and children (one-on-one counseling, support groups, workshops); integrative therapies (aromatherapy, Reiki, and massage); Pawsitive Pet Connect, dog walking and other services for the pets of housebound patients; and Veterans to Veterans, a program that honors and cares for those who served our country. These programs are made possible through the generosity of the community. The Elizabeth Hospice is a 501 (c) (3) nonprofit that provides care to everyone in the community, regardless of their ability to pay. Donations can be made at www.elizabethhospice.org/donate.
For more information about The Elizabeth Hospice's services or volunteer opportunities, call 800.797.2050 or visit www.elizabethhospice.org.