Sarah McSpadden is President and Chief Operating Officer of The Elizabeth Hospice.
On behalf of the Leadership Team at The Elizabeth Hospice, I want to thank our wonderful volunteers who sewed and donated homemade masks for our staff and their families to wear when conducting essential business out in public. Volunteers play such an important role in our organization. Our appreciation for them extends beyond National Volunteer Week to include every week of the year.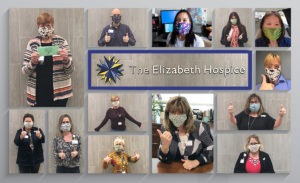 The mask may cover a loved one's face,
But the caring is there to view
Saving the vulnerable from evil disease,
Is love made visible!   True?
Those laboring for others fulfilling a need
Are the heart of any endeavor
A grateful staff will never forget
We will love volunteers forever!
Shirley Turner, RN