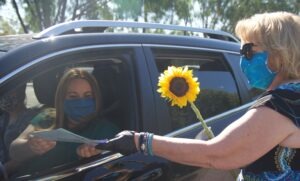 The Elizabeth Hospice invites you to Wings of Hope 2021, a drive-through experience to celebrate the people who have touched your life in a beautiful way. This family-friendly event will be held on Sunday, May 2, from 1:00 to 3:00 pm in the north parking lot of the California Center for the Arts, Escondido, 340 N. Escondido Blvd, Escondido 92025. Everyone is welcome and there is no cost to attend.
In the comfort and safety of their car, each guest will receive a butterfly with instructions for releasing it in an outdoor space, listen to live music, hear uplifting messages from The Elizabeth Hospice's grief support team and enjoy sweet treats.
Guests and staff will remain 6 ft. apart and will be required to wear face masks.