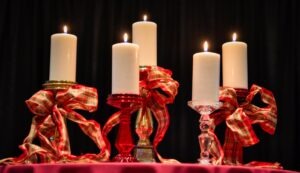 A time to remember and honor the people who have brightened your life.
The Elizabeth Hospice invites you to Light Up a Life 2020, a special candle-lighting ceremony to celebrate those whose lives have warmed your heart and whose memories illuminate your life. This family-friendly event will be held on Sunday, November 15 from 4:00 to 6:00 pm at the California Center for the Arts, Escondido, 340 N. Escondido Blvd, Escondido 92025. There will be live musical entertainment and inspirational messages. Admission and parking are free.
While social distancing guidelines during the pandemic prevent The Elizabeth Hospice from hosting its traditional Light Up a Life event, this is a new way to honor and celebrate loved ones this holiday season. All attendees will be invited to walk through an outdoor pathway of luminarias and light a candle in memory of their special person.
In support of The Elizabeth Hospice's nonprofit mission, a donation of $50 is suggested. A 2020 keepsake ornament will be provided with a $100 donation; a personalized ornament will be provided with a donation of $250 or more.